Online Travel Agency
New Product
Category: "Fitness"
People want to stick to their workout routine while traveling. Be an early adapter of fitness and unlock a new revenue stream in your experiences portfolio.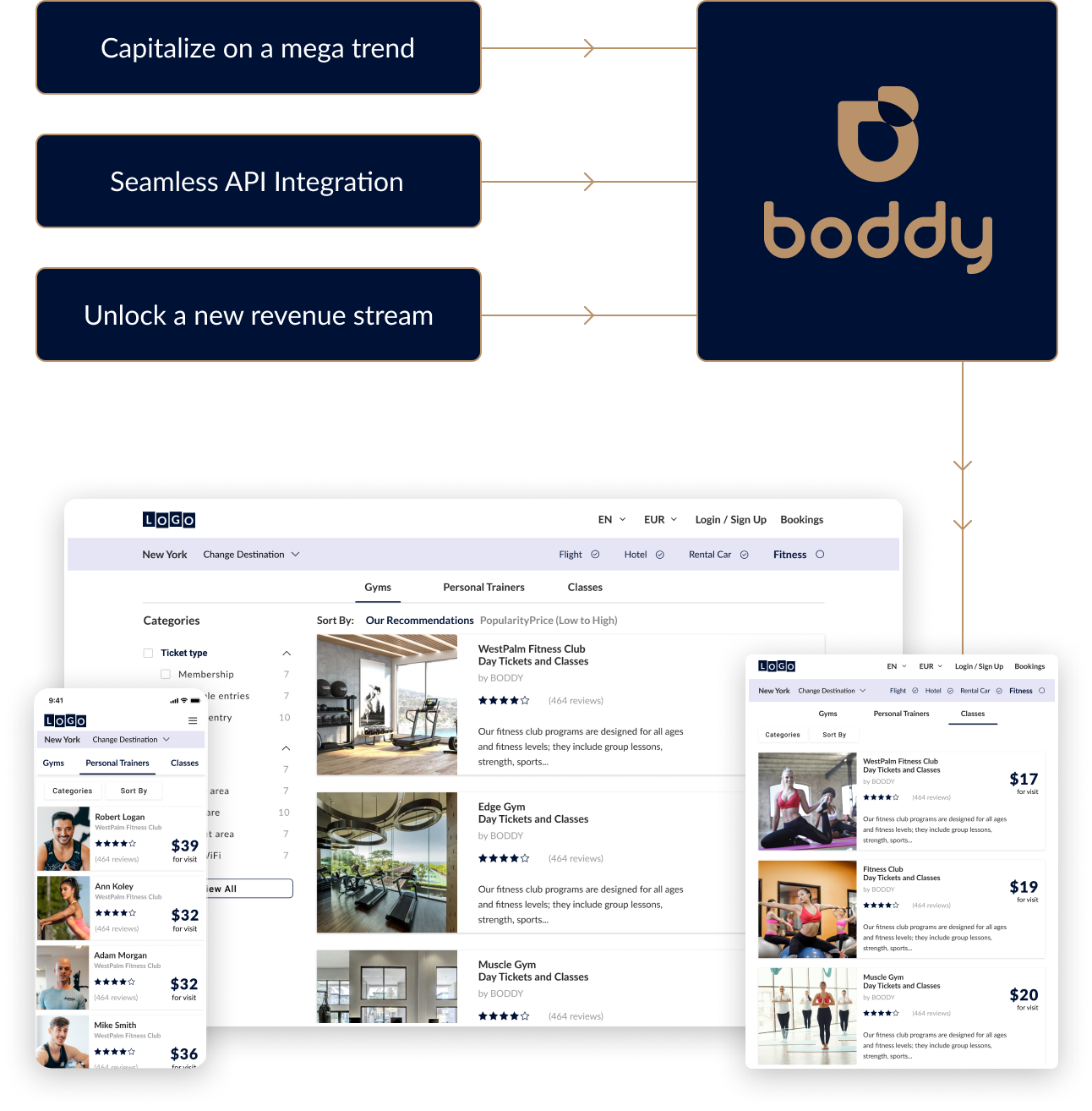 Our Products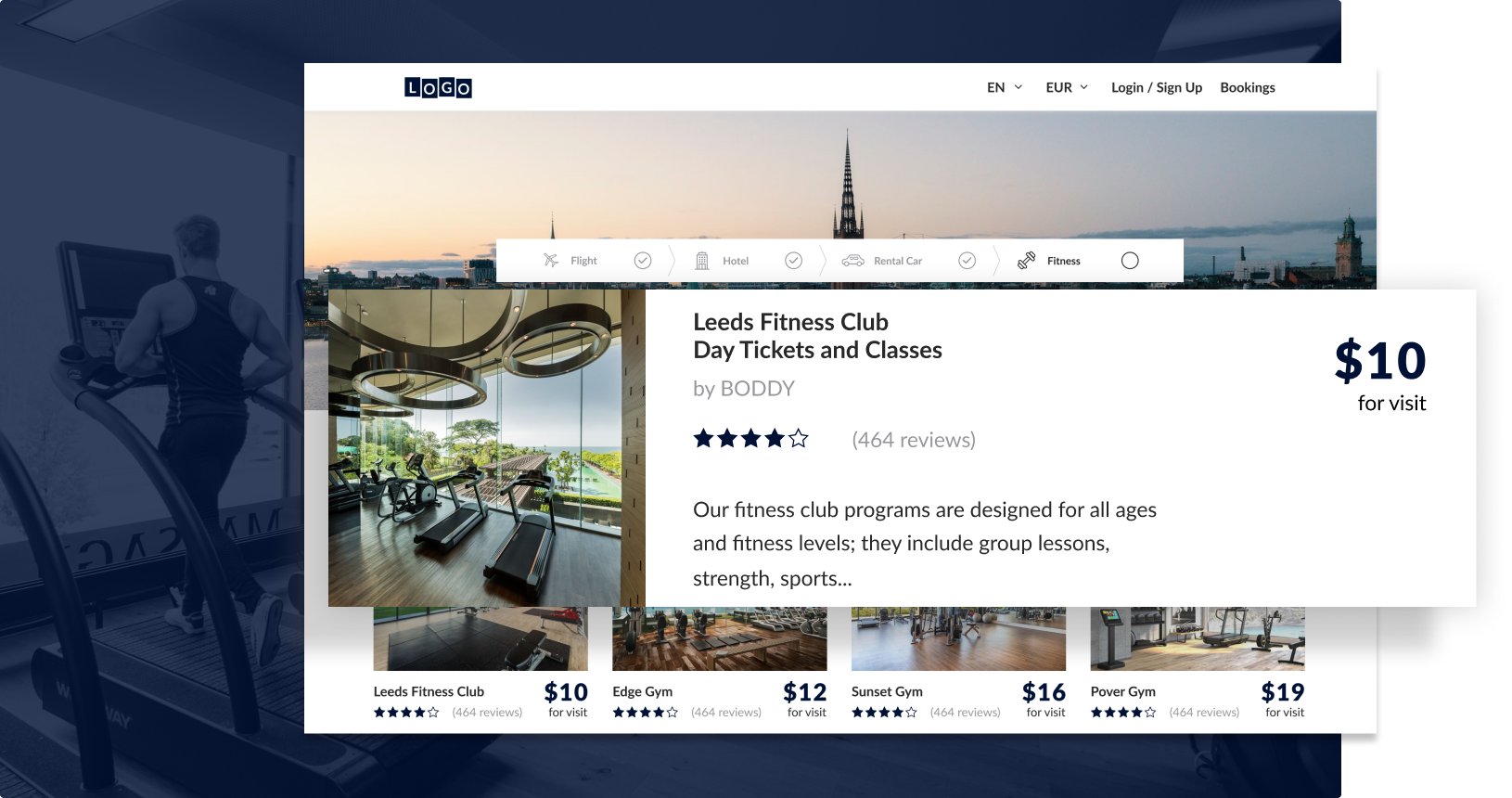 1
Fitness Clubs
Whether it is a trendy boutique studio, a classic box-gym or a 24/7 facility, we make them all available on your platform.
2
Group Classes
Group exercise is today's fitness trend number one. Travelers can socialize while sweating in a spinning class or taking a time-out with fellow Yogi(ni)s.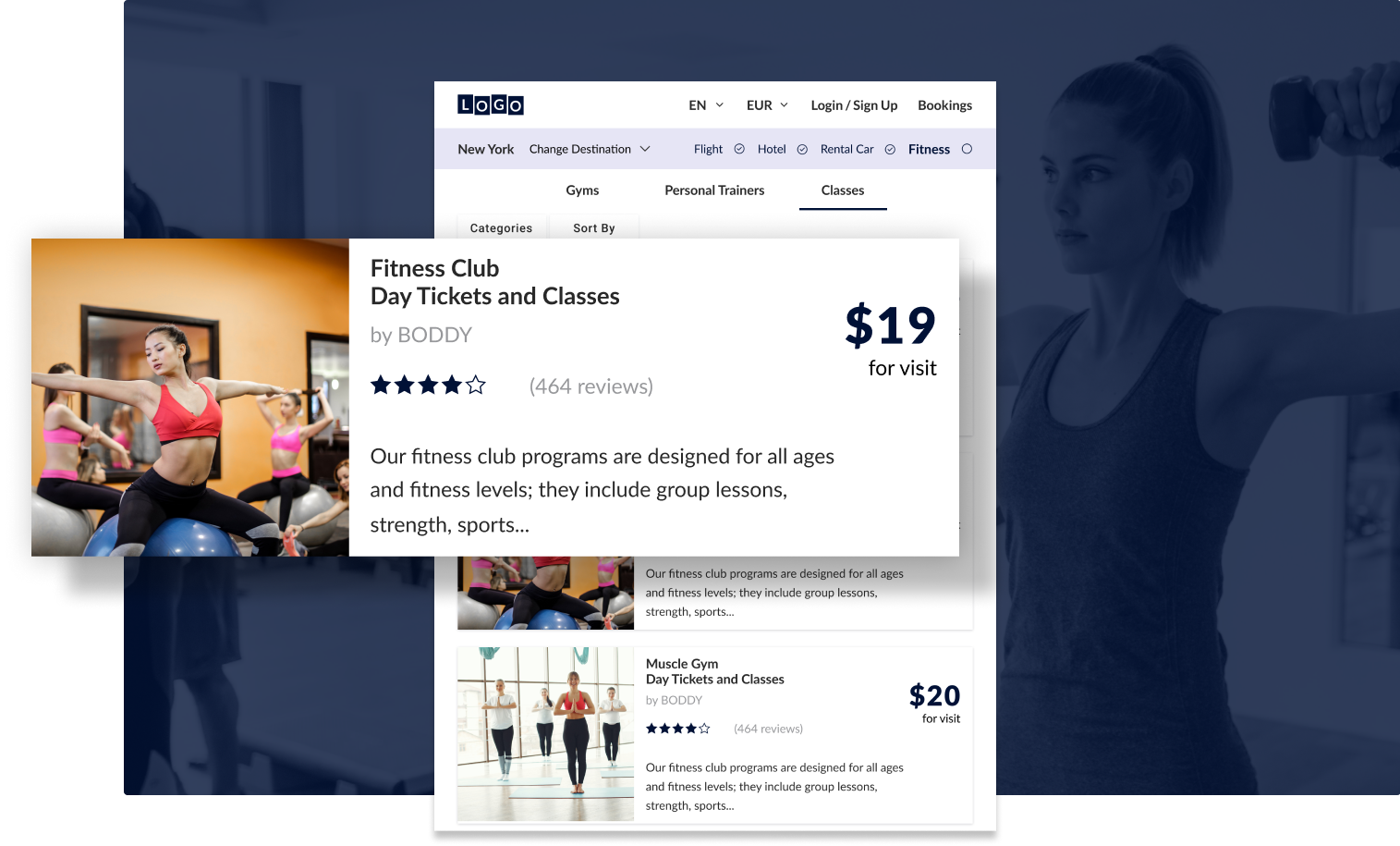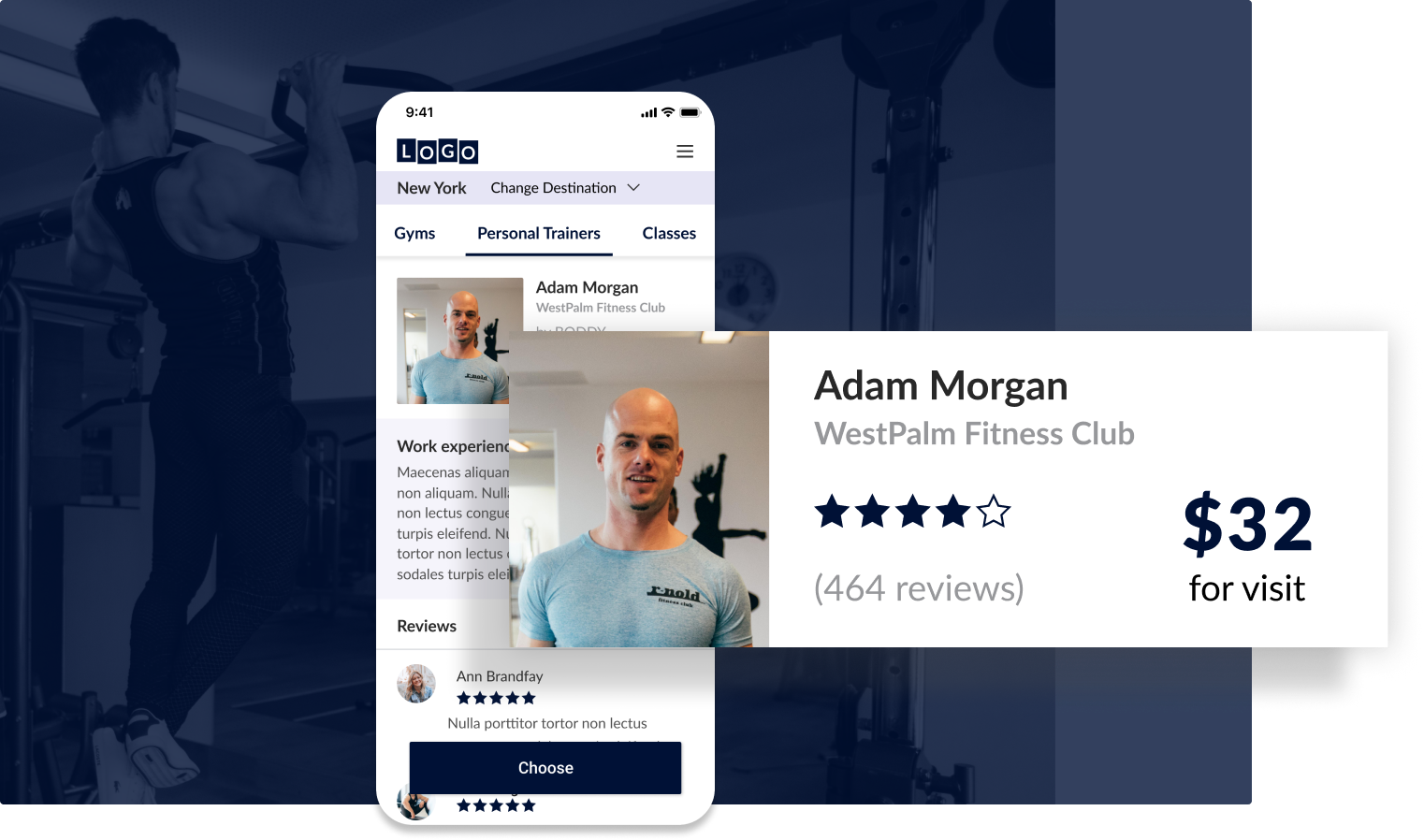 3
Personal Trainers
Travelers want to feel part of the local community. They are keen on experiencing a 1:1 session with a local PT in a local environment.
Standardized Data
We globally standardize data of fitness clubs, group classes and personal trainers. In light of Covid-19, we also added digital content (online workouts) to our portfolio. Any travel booking platform (OTAs, Airlines, Hotels, Travel Apps) can access our database to offer the content to their clients. BODDY delivers the data according to your requirements and is your SPOC for all fitness related offerings.
Search Results
Details Page
Tickets/Products
Whitelabeling Page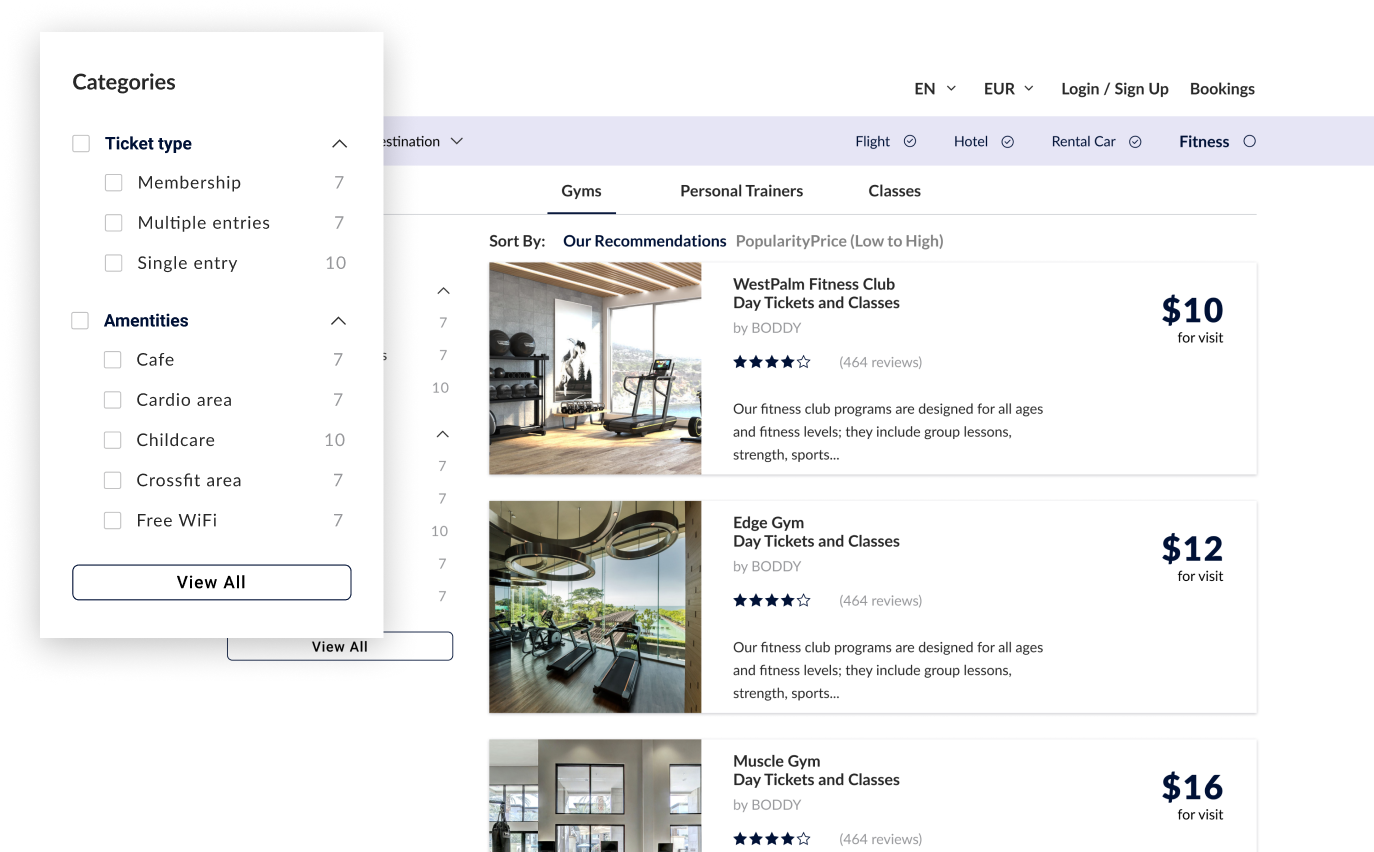 Search Results
This is how our products could look on your search results page.
We can also offer you customized search filters, tailor-made for the fitness industry.
Description
Pictures
Adress
Opening Hours
Inclusions
Exclusions
Know before
you book
Tickets
Know before you go
Highlights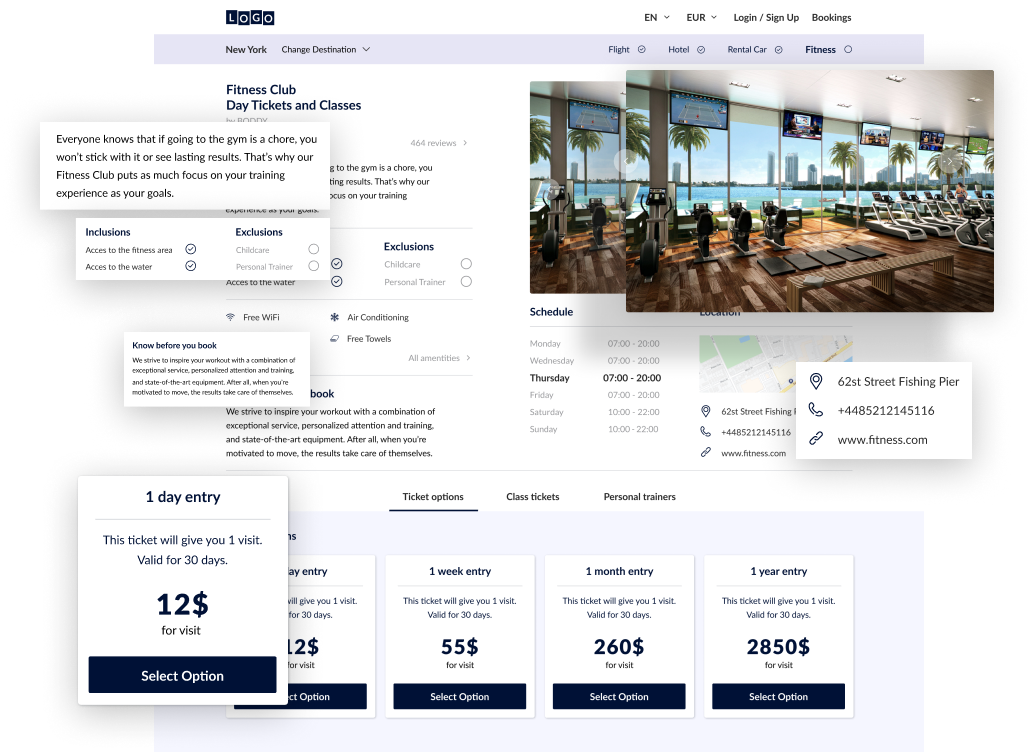 Details Page
We deliver all data in the format that matches OTA requirements.
We can easily create more specific fields according to your needs.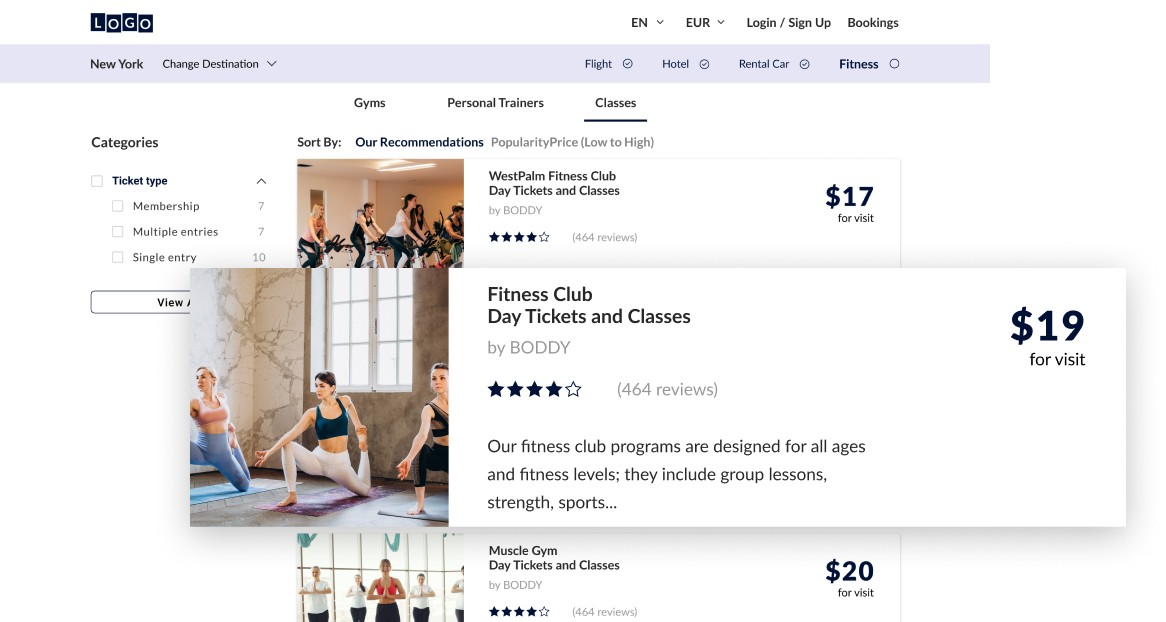 Fitness Clubs
Day Passes
Multiple Entries
Memberships
Classes
Day Passes
Multiple Entries
Personal Trainings
Single Sessions
Multiple Sessions
Tickets/Products
Real-Time Prices
Instant Bookings
OTA ticket standard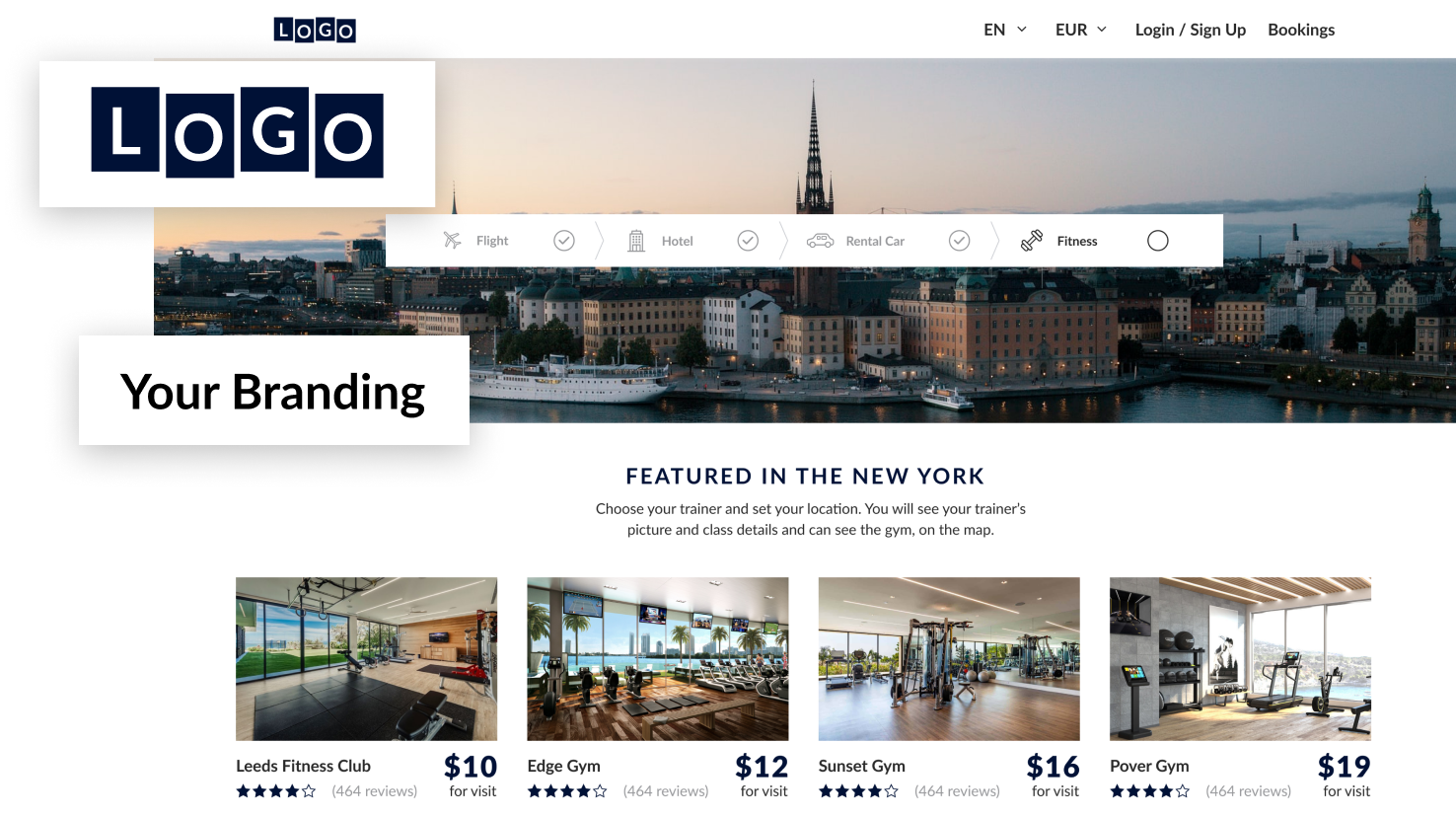 Whitelabeling
We built a B2C platform which can be easily customized as a whitelabeling page according to your branding guidelines.
The page allows users to search, book and pay for gym entries, classes and personal trainers.
Add your branding on the page and activate a new revenue stream in case you don't want to integrate our data in your current website / software.
Integration
There are 5 easy options to obtain data from BODDY. We built a customized interface for partners which allows for a straightforward integration. To register, please click here.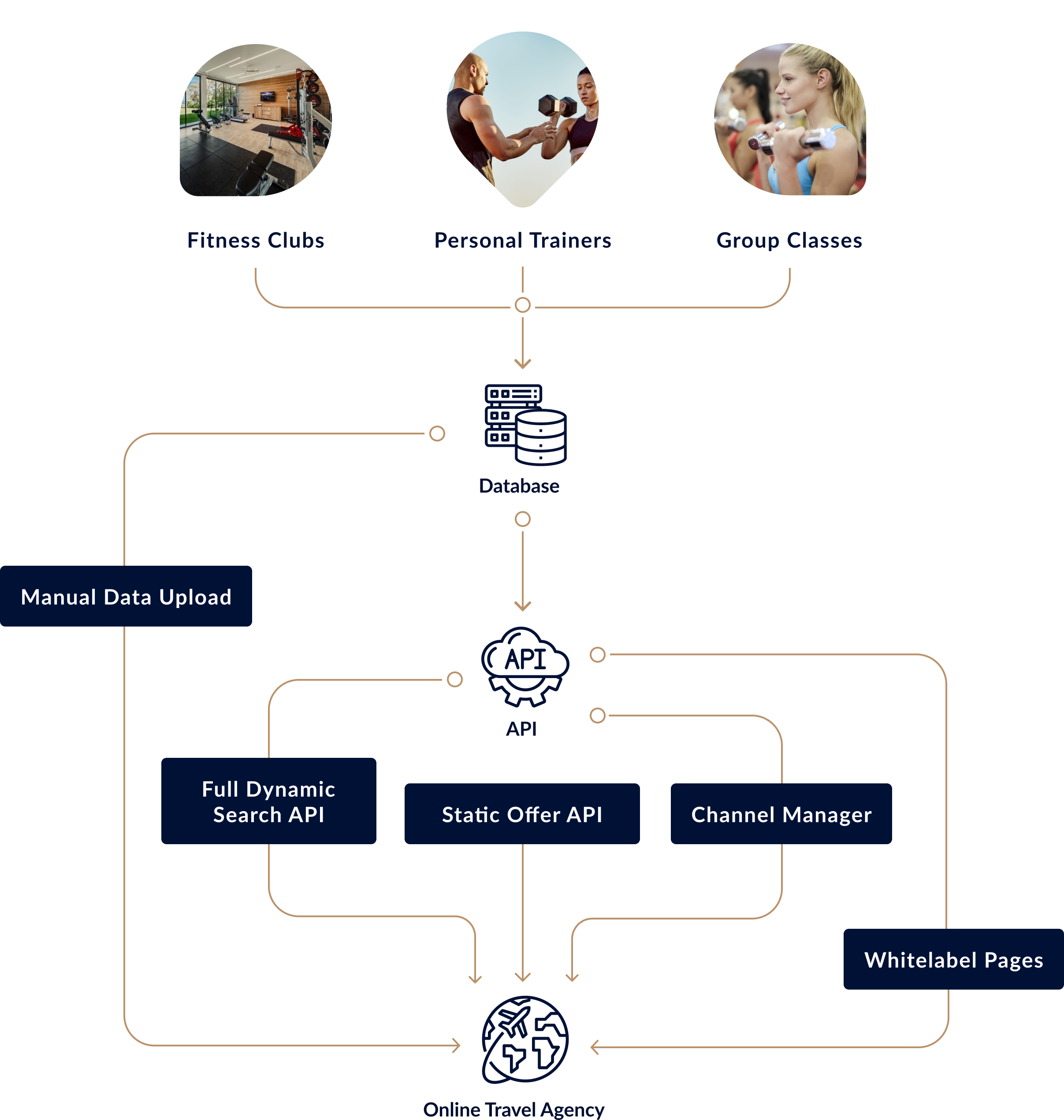 1
Search API
The best and most sophisticated option is to use our Search API that takes all the work of searching and filtering through data and offers wide range of filtering, ordering and faceted navigation.
2
Static API
If you already have database and search algorithms in place then Static API option might be a good fit for you. It simply gives you the ability to download and keep updated our entire offers database to your server.
3
Channel Manager
We are also connected to several channel managers which can push data directly to you.
4
Manual Upload
If automated integration is not an option for you, it is possible for us to manually upload our offers to your website. Please note that as a technology company, we are not a big fan of manual upload :-)
5
Whitelabeling
This is best if you want to start selling your offers immediately while maintaining a seamless customer experience. It provides you with pre-built web pages for users to be able to browse offers, view details, and pay. You can customize it according to your CI including custom domain.
Are you ready to
receive bookings?
It only takes 10 minutes to upload your content and get
instant access to millions of potential clients.
Fitness - Сapitalize on a Mega Trend

109bn
Turnover
Fitness has become a global mega trend and in light of Covid-19, health consciousness will be spurred even further.

224mn
Club Members
We can observe tremendous growth in memberships globally. The sharp rise in fitness penetration is a clear trend indicator.

8% p.a.
Growth Rate
In the past 5 years, fitness has been one of the fastest growing sectors worldwide and is outpacing global GDP growth by a wide margin.
Get in touch with us
Address
Technoparkstrasse 1, 8005 Zürich, Switzerland
Have any question?
Please contact us here, we're happy to help!